Virtual Classes
Blended Classes
All of our beautiful yoga classes are blended, meaning they run both in the studio and via live-streaming. We've been running blended classes for 3 years now and have it on lock, the quality is the best as we've refined the service to a standard we are proud to offer our community. Members have given us a ton of positive feedback for our superior online offerings.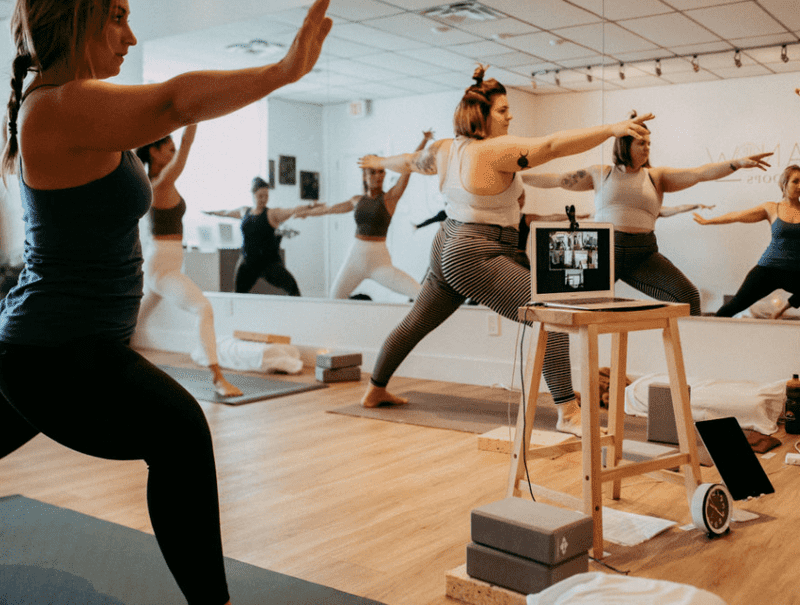 People who love this option:
those who prefer to tune in from the comfort of their home
those from further away; we have clients tuning in from all over the province and the country!
parents with young ones at home; they can still get some yoga in and participate in community while also caring for their family
those who love the flexibility this provides for their schedule: close to the studio, come by for class, can't make it in, join from home
those who can't quite get a full hour of practice in: pop into class online when you can and leave when you need to
How it works:
Register for a class in MindBody as per usual, selecting the 'virtual class' option
We will text you the zoom link before class so you have it in your hot little hands (we find our members like to have it in advance so it's not a concern, they are set!
Up to 15 minutes before the scheduled class, open the zoom meeting *You will be asked if you want to join with your camera on or off: you decide! We have lots of members who do both
One of our bad-ass teachers will greet everyone and then start class & mute all attendees (you can have an actual circus happening around you and still get your yoga on)
It's that easy. Join our beautiful online community, why not give it a try, your first class is free!
Register in MindBody